As a homeowner, you likely purchased or built a home that featured a concrete floor garage.
Over time, you will likely begin to notice that the daily wear and tear of life leaves your garage floor concrete with an accumulation of dirt, dust, grime, and other detritus.
Unfortunately, it takes very little liquid to leave a nasty, discolored stain on your nice concrete floors. 
Cleaning concrete floors can be a headache.
From the expensive treatments that may be required to truly get rid of stains to the consistent hard work required to keep the concrete looking strong and fresh, these floors often become more work than they are worth.
This is why more and more homeowners are searching for a better solution to their garage floors – namely, epoxy flooring.
The reason so many homeowners are moving to utilizing epoxy in their garage floors is due to concrete's consistent issues with quickly becoming dirty and damaged. 
Susceptible to stains, concrete's porous makeup creates an easily-penetrated surface that liquid can invade once spilled.
These spills can leave pigmentation deep under the surface that will quickly stain the concrete.
Not only will the liquid stain, but over time any moisture that gets into the surface of concrete will expand with temperature changes – leading to unsightly and dangerous cracks.
With even the smallest of stains, concrete cleaning can require hard work and costly cleaning solutions to truly repair.
In many cases, the concrete must be completely replaced to get rid of unsightly spots, stains, or cracks.
The consistent use of vehicles and other potentially wet items in your garage will undoubtedly lead to stains in your concrete in short order.
Epoxy: The Seamless & Nonporous Solution
With concrete having a porous surface, homeowners who want to do away with the risk of staining are turning to epoxy.
Epoxy is designed to have a sleek and impenetrable surface that repels even the strongest chemicals.
If you find your garage floors are constantly getting wet, experiencing chemical spills, or having wet tires driven over them, having a flooring solution that will stand up against the elements is vital.
With epoxy, you can trust that your residential flooring will stand strong against the various damaging elements – and allow you to enjoy your garage floors in peace!
Maintain Your Epoxy Garage Floor
Getting back to the root of it all, the goal of a high-quality garage floor solution is low-cost and low-upkeep.
The good news is that residential epoxy floors in your garage are a great way to enjoy your floor without the hassle of constant upkeep!
While concrete maintenance can quickly add up in time and money, epoxy is easy to clean and keep looking nice.
Concrete floors often require power washing, chemicals, and more to truly wash away the dirt, grime, and stains that can accumulate with typical wear and tear..
Even with a powerful clean, you may risk chipping or cracking your concrete over time with consistent washing.
For epoxy garage floors, all you need in your toolkit is a soft bristle broom and a dust mop.
Using these two low-cost tools, you can quickly break free any collected debris and quickly mop it away.
Following a good scrub with the brush or dust mop, you can use a wet mop and neutral cleaner to quickly bring a clean and shine.
With epoxy, no waxes or polishes are necessary – making the process quick and easy!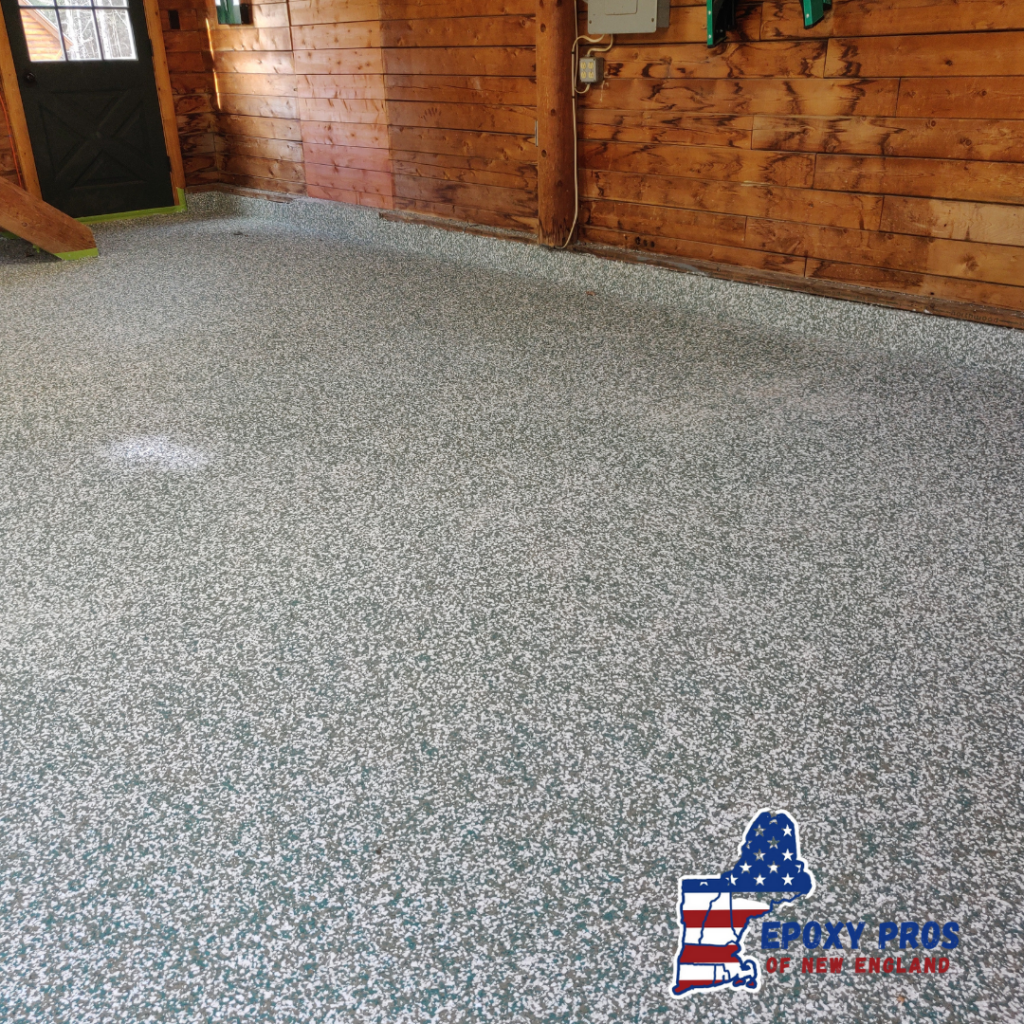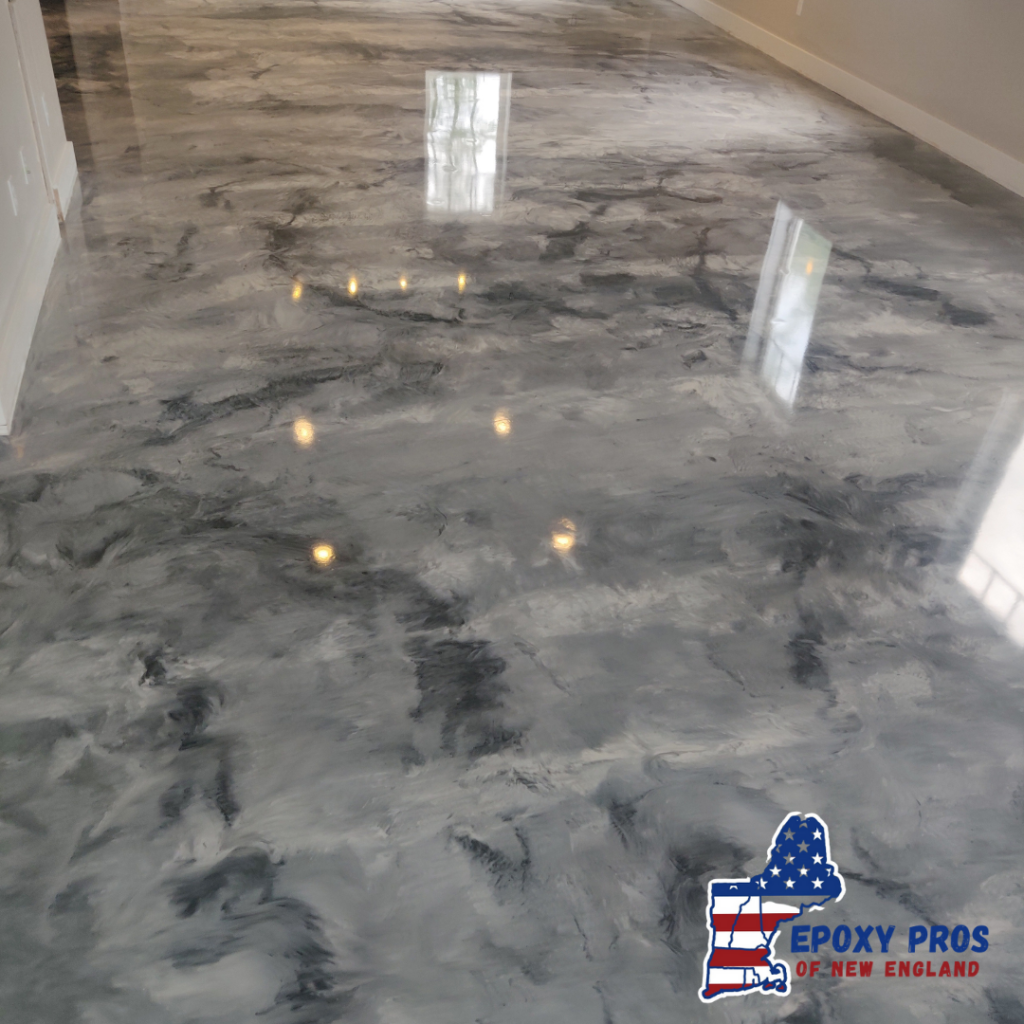 Enjoy Your Home With Metallic Epoxy Today
With a professionally-installed metallic epoxy floor, you can enjoy a fantastic-looking flooring solution at a fraction of the cost of many other flooring options.
Epoxy floors offer a long-lasting flooring renovation that can be customized to meet any unique need or desire. 
If you are looking to learn more about metallic epoxy floors, and want to learn how to bring the look and feel of high-quality floors to your home, contact a professional epoxy installation contractor in Maine today.
With a trained and licensed epoxy installation team, you can trust that your flooring solution will be implemented properly, and will be covered by guarantees.
Contact a professional metallic epoxy floor installer near you today to learn more today.