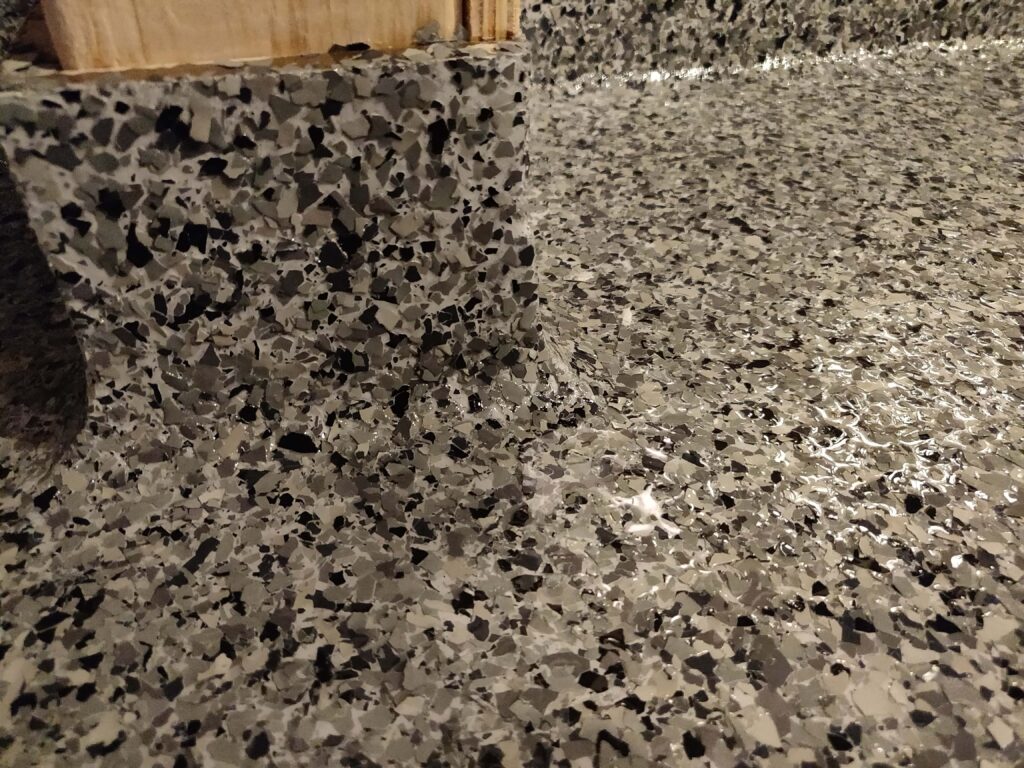 As you consider adding the benefits of a great-looking epoxy floor to your home, learn how long you can expect your new floor to last.
Over the past few years, epoxy floor treatments have become increasingly popular options for residential flooring replacements. Instead of simply fixing cracked or chipping concrete garage floors, many homeowners are choosing to apply an epoxy floor coat to bring a stunning look and feel to their home. 
Epoxy floor coatings are a great investment in any residential home for a variety of reasons. The epoxy resin compound that is used to manufacture the coating provides a smooth and strong flooring treatment that is resistant to most of the daily wear-and-tear of home life. This damage and stain resistance – combined with a non-slip shine, is an enticing option for many homeowners who wish to rejuvenate their floors.
However, many hesitate to make the jump to purchasing an epoxy floor coating due to a lack of knowledge about the product's longevity. 
Will the epoxy last longer than a concrete fix or repouring? 
Will the look begin to wear over time? 
How often will the epoxy flooring need to be retreated to maintain the sheen so many have come to appreciate in epoxy showrooms?
Isn't it a cheaper option to simply repour concrete or treat cracks?
Epoxy floor coatings are uniquely designed and manufactured to provide a long-lasting and durable product. The resin compound that makes up most common residential epoxy treatments can repel most dust, debris, and liquid damage. The non-slip surface will also hold up strong from the heavy weight and daily use of vehicle, equipment, and foot traffic. Depending on the quality of epoxy and the amount of wear and tear, most floors will last anywhere from two to five years.
Factors That Impact Epoxy Floor Lifespan
The choice to install an epoxy floor coating is often made because of the epoxy resin's ability to bond to the floor surface below and create an impenetrable surface that is resistant to stand and damage. However, like any flooring, there are a variety of elements that can impact just how long an epoxy floor maintains its look and feel:
Foot Traffic: When choosing an epoxy floor, take stock of how much foot traffic will move across the floor itself. The more foot traffic that moves across the epoxy surface, the more important it is to ensure that you are taking every step to maintain the treatment of the floor based on installation guidelines.
Installation: A word to the flooring-wise: Unless you are a trained flooring professional, do not attempt to install an epoxy floor coating as a DIY project. While there are many products on the market that promise an effective epoxy result, few can deliver the long-lasting strength of a professionally manufactured and installed epoxy floor. (Also, DIY treatments come with no warranty!)
Consistent Maintenance: It is vital that you take the steps to follow your epoxy installation guidance for treating and cleaning your flooring. While the epoxy itself is great at repelling most stains and wear, there is still value in ensuring that you treat the epoxy with care and keep a cleaning routine to ensure long-lasting durability and look.
Epoxy Company: Similar to installation, the epoxy installation company you partner with will help you to keep your floor in perfect shape. Make sure to hire an epoxy company that has a proven track record in servicing residential homes and garages.
Keep Your Epoxy Floor Strong With The Pros
Are you ready to bring the benefits of a great-looking and strong epoxy floor coating to your home or property? When done properly, you can enjoy a long-lasting floor that will quickly become the envy of the neighborhood – for years to come!
Contact Epoxy Pros of New England today to discover more about epoxy treatments, as well as the process for bringing this incredible flooring option to your home today!